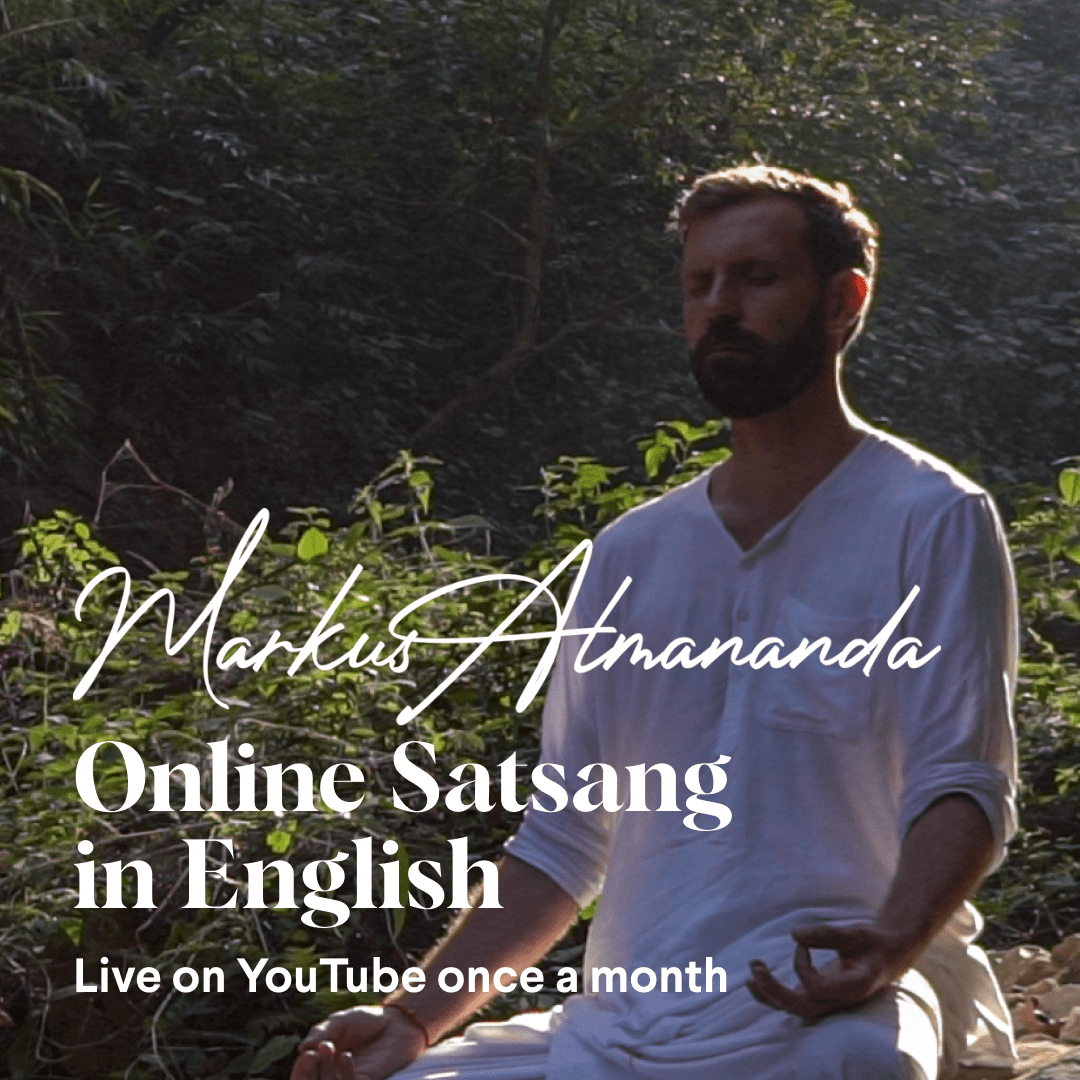 Welcome to our Monthly Online Meditation Satsangs. Join us for serene self-discovery, guided meditation, Q&A, and a supportive community. Mark your calendar and subscribe on YouTube for transformative sessions. The dates for 2023 and 2024 are; September 13, October 11, November 15, December 13, January 17, February 14, Mars 13, April 17, May 15, June 12.  
MALMÖ|SATSANG
Meditation / Satsang
ONLINE
19.00-21.00 (7 pm – 9 pm CET). Once a month.
Date & Time: Once a month 19.00-21.00 (7 pm – 9 pm CET)
Where: Online on Youtube. 
What are Satsangs?
Satsangs are gatherings that bring together individuals from all walks of life, united by their pursuit of spiritual exploration. Derived from the Sanskrit words "sat" (truth) and "sangha" (community), our Satsangs are a safe haven where seekers can explore the timeless wisdom within.

About Markus Atmananda
Markus Atmananda have been exploring meditation since 1999. He started his spiritual journey after a depression in the late 90s. His first encounter was with books from authors like Osho, Krishnamurti and Ramana Maharshi. Not knowing any particular meditation techniques he just sat and watched his mind for several hours a day. He quickly got glimpses of the freedom and stillness that resides beyond thoughts. He felt a strong pull towards the Non-dual traditions and has since met several teachers in those traditions including Mooji, Adyashanti, Swami Shashwat and Nukunu. 2016-2017 he lived in India with his Guru. Markus Atmananda has been teaching since 2009.
What to expect from an online Satsang:
Talk: Each month, Markus Atmananda will guide us in exploring different facets of meditation. It could be common obstacles or inspirational jewels to lead you on your path. The Satsangs are meant to inspire, uplift, and challenge you on your spiritual journey.
Guided Meditations: Embark on a journey of self-discovery and inner peace with our guided meditation sessions. Explore the depths of your consciousness, quiet your mind, and experience the serenity that lies within.
Q&A Sessions: Engage in insightful discussions and seek answers to your most pressing spiritual queries. Markus Atmananda is dedicated to addressing your doubts, providing clarity, and nurturing your spiritual curiosity.
Community of Like-Minded Souls (The Sangha): Connect with a diverse and supportive community of fellow seekers, creating meaningful bonds and fostering a sense of belonging on spiritual search.
Meditation techniques: Learn practical techniques to incorporate meditation into your daily life. Discover how to stay anchored in the present moment and cultivate awareness throughout your routine.
How to Join
Participating in our Monthly Satsangs is effortless. Simply tune in to our YouTube channel on the scheduled date and time of the live broadcast. The sessions are open to everyone, regardless of background or experience, and there are no fees or subscriptions required. If you want to contribute you can give a donation.
Mark Your Calendar
Satsang is held once a month. Our events are carefully planned to accommodate various time zones, ensuring that seekers from around the globe can come together and reap the benefits of Satsang.
Subscribe to our YouTube channel and turn on notifications, so you never miss an opportunity to attend our monthly Satsangs.